Professional teleprompters cost hundreds of dollars and up. (Even consumer ones) So obviously, I'm not going to spend that much money on it, especially because I'm not sure I even need it. Since the basic principle on which teleprompters are based is very simple, it's not hard to make a DIY variant of it. The main thing you need is a piece of glass and something to hold it at a 45-degree angle to the camera. And somewhere to place the phone or tablet on which the text is scrolling by. I only did a test video with it so far, but it seems like it'll be a very convenient tool.
For those who don't know, a teleprompter is a device that stands in front of the camera and has the desired text on it so the person who is being filmed can read the text while looking directly into the camera. This is very useful for people who are not very good at improvisation or remembering the script they're supposed to tell, or just have issues speaking to a camera.
With some basic materials and an app on my phone, I got something worth much more than what I invested in it. The app I use is called Elegant Teleprompter and it is pretty simple but it has all I need for free. It does have ads quite often, but that's a price I'm willing to pay for now. There is a pro version and I will maybe consider it one day if my needs grow further than what the free version provides. One nifty feature is controlling the speed of text and scrolling it remotely. I hooked up a cheap game controller to my phone and it works perfectly.
Boring stuff
Supplies for this project are very basic and a lot of people already have most of them in their home. You need a piece of glass (a cheap picture frame will do), a black binder, or something in that shape, some clips (I got these from the 3D printer), and a wire hanger (or a lot of different stuff). As I've said in the third project of this challenge, wire hangers will be useful for something else eventually. This is one fun thing when you start making stuff. You start with nothing, but over time, you accumulate tools and materials so you can make stuff without any additional investment.
First we need to mark a rectangle slightly smaller than the glass.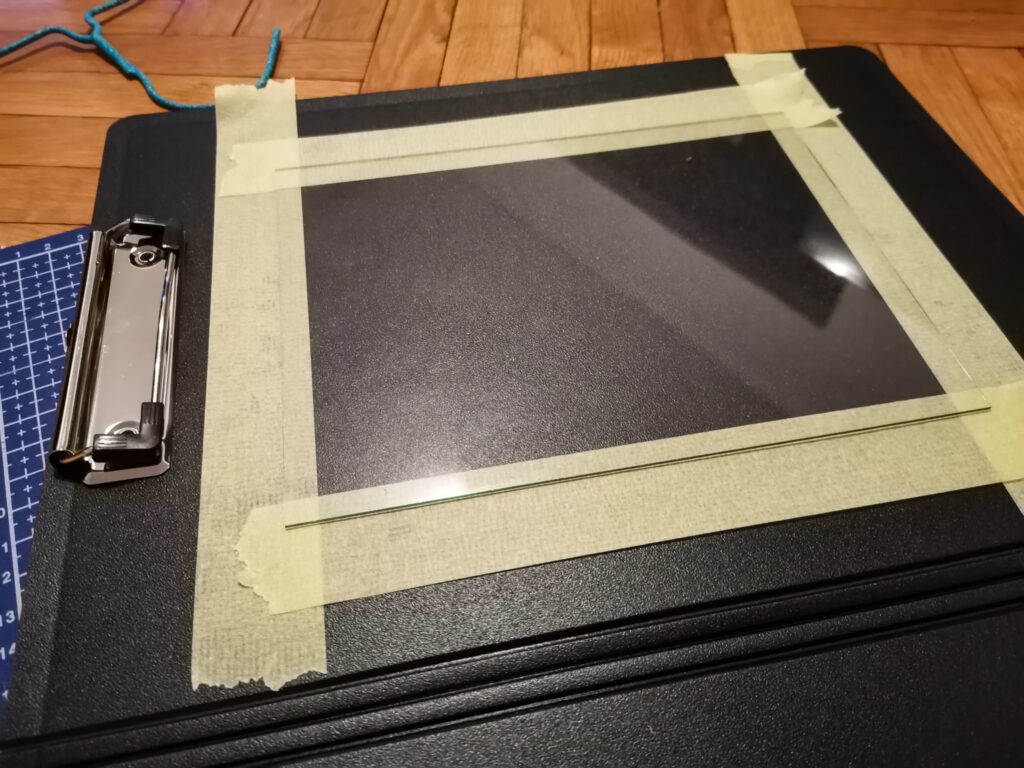 Then, we cut out that rectangle and tape the glass to the binder. I also covered some shiny parts of the binder and a hole with black tape. After that, all you need to do is to bend a couple of pieces of wire to a length where when put between the clips you get a 45-degree angle between the sides of the binder.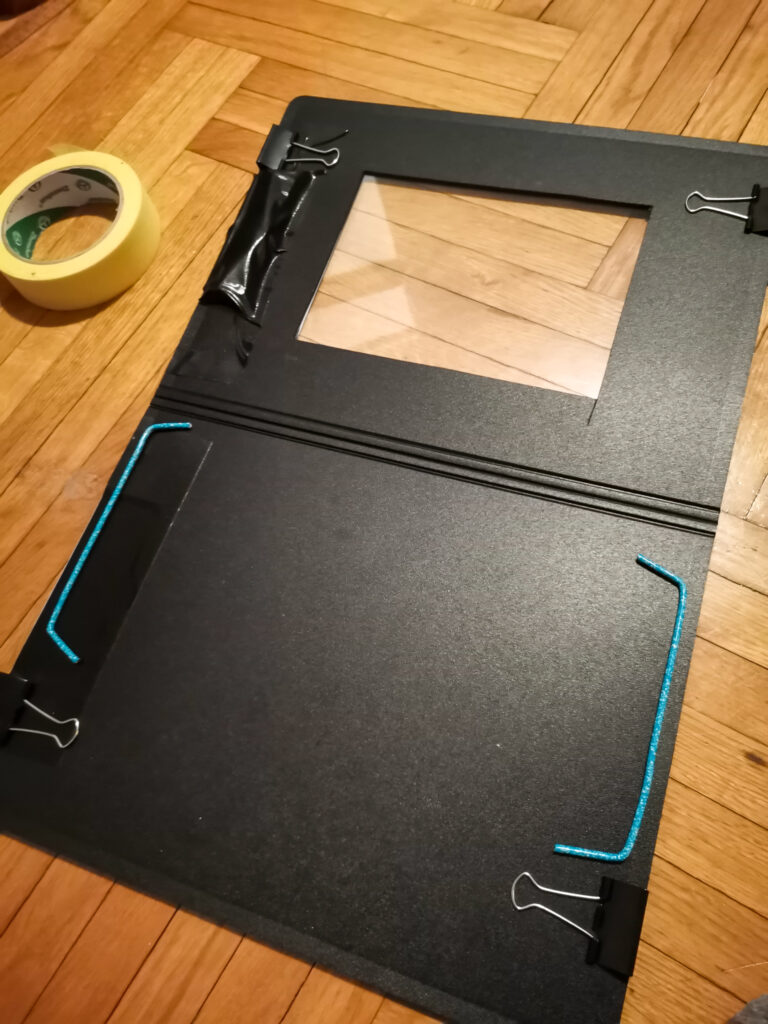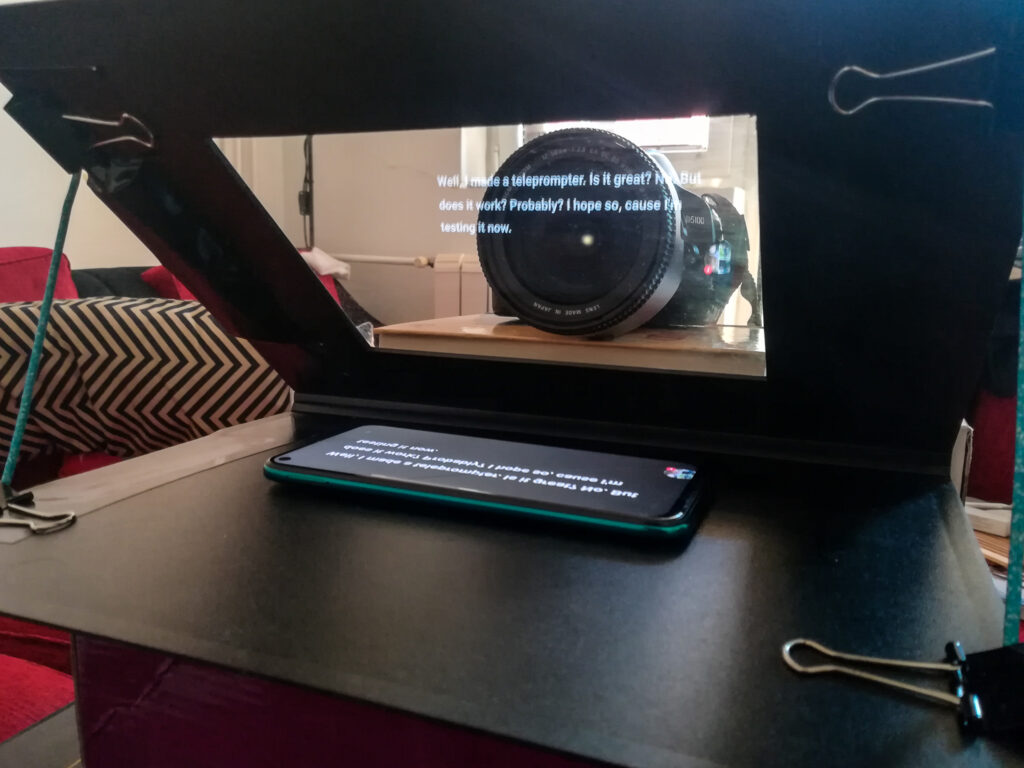 When you use the teleprompter, you should cover it from the back with something black so the text and the glass won't be visible on camera.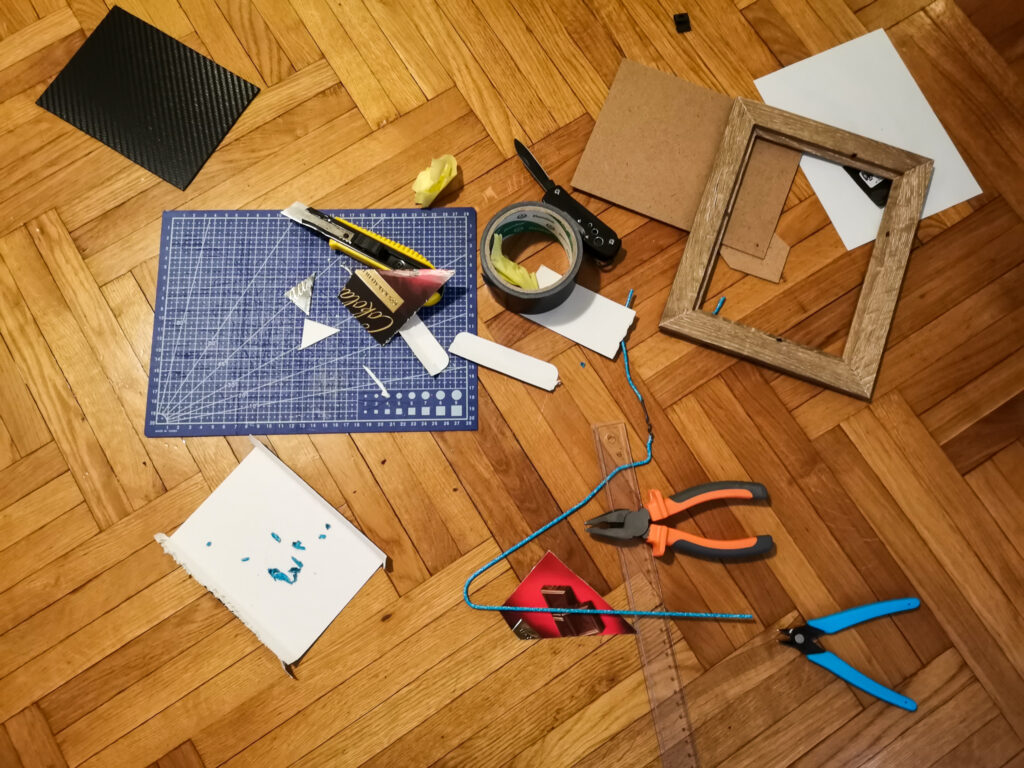 This is a classical scene when I finish a project. As you've seen, this one was so simple and easy and yet there is so much mess left after it.