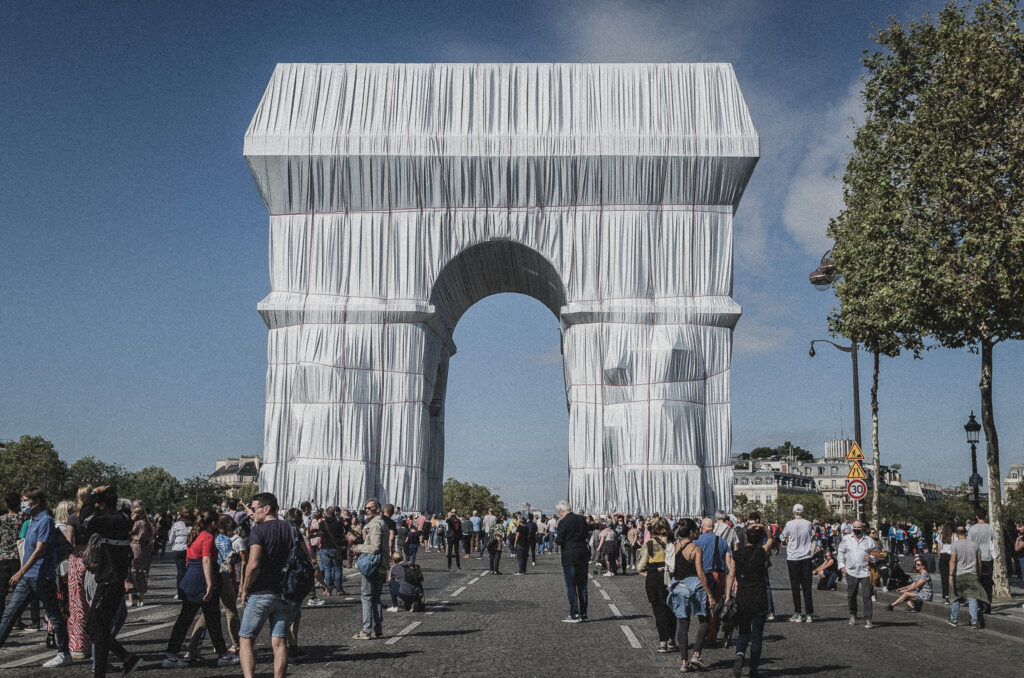 This week's title could've been a lot of things: Make a once in a lifetime trip/experience, Make memories; or if you want to be really technical; Make a photograph. There is no special reason why I chose this title in the end except that it sounded the best to me. But this title is true.
This story begins around 5 to 6 years ago when I discovered Christo and Jeanne-Claude. I immediately fell in love with their art and their whole philosophy about art. I would love to talk about it, but I'm afraid I couldn't do them justice. So I would highly recommend for you to go down this rabbit hole and read everything you can about them. I would just highlight a couple of ideas I really like.
(their) art is temporary
(their) art is about freedom
They self-fund their projects and pay everyone who works on them (often thousands of people), no volunteers
Shortly after I learned about them, I found out they are making an exhibition in Italy – the floating piers. The concept drawings looked amazing and I was determined to visit the exhibition. Even though it was happening right between two exam periods and I was a broke student at the time, that wouldn't stop me from going. That is the power of their art being temporary. You either see it then and there or never. (This isn't the only reason why it's temporary). Anyway, I don't regret the slightest this two-day-no-sleep trip. It was a unique experience that I will probably remember until the end of my life.
And now, let's fast forward a couple of years forward when they announced: "L'Arc de Triomphe, Wrapped". This is a project that Christo dreamed up in 1962 when he was my age. He made his first sketch for something that was just a silly dream for an artist who was at the start of his career. This is a project that has been 60 years in the making. In the meantime, they fulfilled a great number of astonishing projects. They wrapped the Reichstag and Pont Neuf in fabric. They made a giant curtain between two Colorado mountain slopes. They made a project that was happening simultaneously in California and Japan. Their portfolio is nothing if not impressive. Unfortunately, neither of them has lived to see Arc de Triomphe, Wrapped. Jeanne-Claude died in 2009 and Christo continued their work until his death last year. Even though Christo and Jeanne-Claude have always made clear that their artworks in progress be continued after their deaths, this still feels special. It's their last artwork that was in the realization phase while they were alive. This is another place where we see their philosophy at work. Their lives, just as their art were temporary. They were amazing and beautiful and have touched millions of lives. Temporary sounds scary but through them, you can see it is actually beautiful and special.
"Our works are temporary in order to endow the works of art with a feeling of urgency to be seen, and the love and tenderness brought by the fact that they will not last. Those feelings are usually reserved for other temporary things such as childhood and our own life. These are valued because we know that they will not last. We want to offer this feeling of love and tenderness to our works, as an added value (dimension) and as an additional aesthetic quality."

Jeanne-Claude
Since it is in a way their last project, it wasn't a surprise to anyone when I immediately decided to visit it. However, as luck would have it, a 'small' issue arose in the form of a pandemic. This made everything uncertain. Nobody had an idea how the world would look like in a year. However, the work on the exhibition hasn't stopped. And my decision wasn't any weaker. If I was legally allowed to enter France, I would. I couldn't be sure until the last minute if I would be able to go. I bought the plane tickets for the first weekend of the exhibition and I even bought the 'flex' addon so I can cancel it if need be. A week before the flight, Serbia fell from the green list of countries because the epidemiological situation there is awful. It ended up on the amber list of countries for France. Which luckily for me meant that everything is fine as long as I'm vaccinated with one of the approved vaccines, which I am.
Another lucky thing is that my girlfriend and I have a friend living in Paris. Since Paris is expensive, it is very nice to have accommodation sorted out so we are very grateful for our wonderful friends. They even gave us a full French experience by welcoming us with cocktails and a cheese platter.
At first, we planned to go to the exhibition on the second day, to avoid the potential opening crowd. However, since the weather forecast wasn't great for Sunday, we decided to go there on Saturday. Fortunately, the crowd wasn't unreasonable and on the weekends the roundabout around the Arc de Triomphe was closed so it's a lot easier to see it from all the different angles. As soon as we stepped out of the metro station it appeared in front of our eyes. It was the first time I saw Arc de Triomphe so there was the grandiosity of it itself but also mixed with the art of Christo and Jeanne-Claude. The fabric appeared to be white from afar, but as we got closer, we saw it is actually a shimmering silver. It looked very glittery in the sunlight. Contrasting it were thick red ropes holding it wrapped around the monument. You could see the fabric swaying in the wind between the arches. My favorite thing about all of this were contrasts. The fabric looks soft and light, but when you get close to it it's thick and industrial. It's heavy but it also sways in the wind. Workers on the project were giving out fabric samples so we have the perfect souvenir from the exhibition.
I find that it's kinda poetic that this was one of the first big projects Christo dreamt up in his little studio in Paris (with a view of Arc de Triomphe) and now it's the last project realized. If anyone is able and wishes to see this artwork, it will be available until October 3, 2021. I would highly recommend it, especially since, you know, it's temporary.
P. S. I will add more photos when I come back from Paris.
UPDATE: Here are the photos: